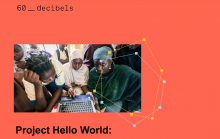 Hello!
During November and December 2021, we are conducting some impact measurement in the Hub communities. This means that some people may receive phone calls from a 60 Decibels researcher asking them some questions about their experience at the Hello Hub. The call should only last around 10 minutes and will be in your language.
It would be great if you would talk to the researcher. Any feedback is useful , good, bad and ugly.
We'll let you know the results, too.
Thanks!